Piedmont and Western Railroad Club
Presents
Traction in
New York, New York
As famous as San Francisco's cable cars are the New York City subways. MTA New York City Transit operates the subway system within the city. The system is a consolidation of the Interborough Rapid Transit Company (IRT), the Brooklyn-Manhattan Transit Corporation (BMT)(formerly the Brooklyn Rapid Transit Company, the BRT), the Independent Rapid Transit Railroad (IND) and a number of bus and trolley lines. In 1953, the New York State Legislature created the New York City Transit Authority (now MTA New York City Transit) as a separate public corporation to manage and operate all city-owned bus, trolley, and subway routes.
New York is also served by the Port Authority of New York & New Jersey (PATH) which operates lines into the city to and from New Jersey. The photos show the old and the new of New York City's subway system.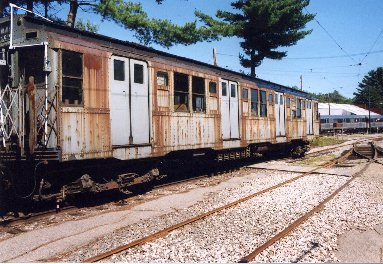 NYC Transit Authority Car #800. This is a type R-4 car built in 1933 by American Car & Foundry. It is one from New York's "A Train". The car is now housed at Seashore Trolley Museum in Kennebunkport, ME. Sept. 2002 photo.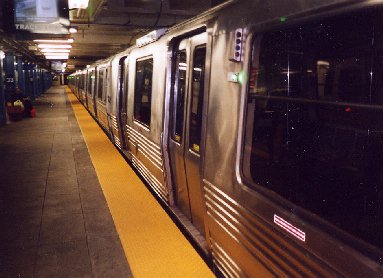 New PATH subway cars waiting at the station in New York City before returning to New Jersey. Nov. 2002 photo.
©1996-2007 Piedmont and Western Railroad Club