PIEDMONT AND WESTERN RAILROAD CLUB
The Piedmont & Western presents: Triple Crown RoadRailers ®
This page does not go into a complete description of RoadRailer® operation nor does it attempt to be any sort of an expert of RoadRailer information. All we attempt to do is give you some photos/images taken by our club members and the links to the experts. If you know of another site, please e-mail P&WRR so we can include it here.
---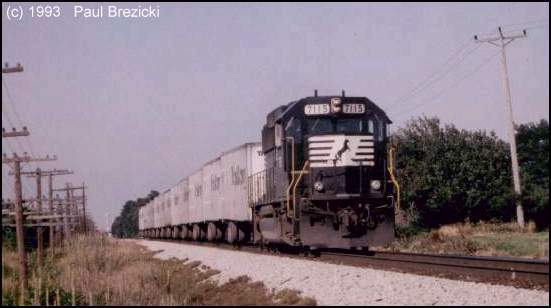 Train no. 241, Buffalo - Ft. Wayne with NS GP 60 no. 7115 at the lead Westbound at Westfield, NY, July, 1993
Links to RoadRailer® Information Sites
Chasing a Swift RoadRailer train through Tehachapi Loop, Calif.
Wabash National Corp. Home Page
Triple Crown Services Company (TCS)
European Roadrailers
©1996-2009 Piedmont and Western Railroad Club