PIEDMONT AND WESTERN RAILROAD CLUB
Images of the 2013 Steam Excursion Program of Norfolk-Southern, the Tennessee Valley Railroad Museum and the Ft. Wayne Railroad Historic Society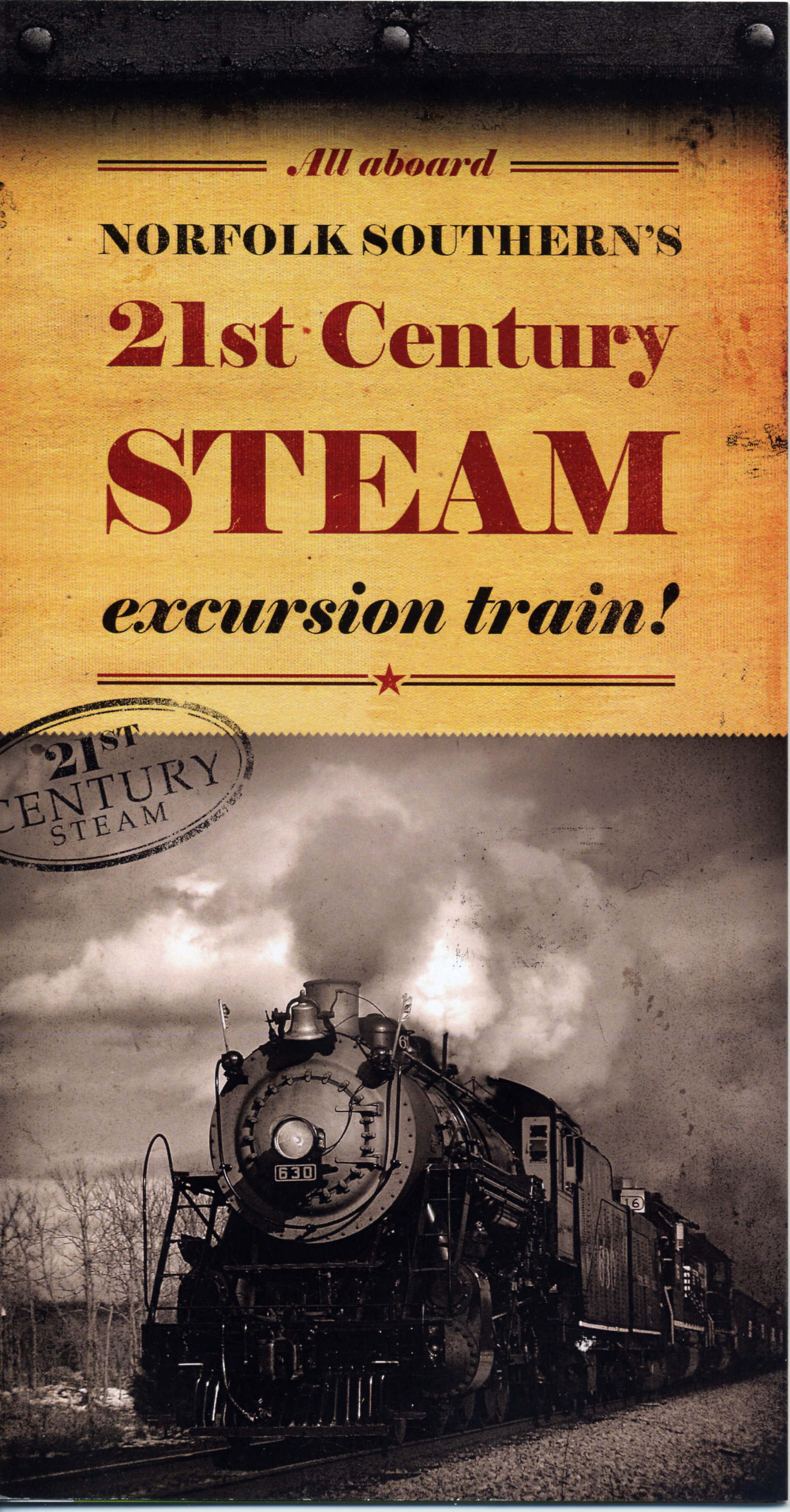 For two months in 2013, Norfolk Southern and the Tennesssee Valley Railroad Museum teamed up to offer a variety of steam excursions in Tennessee, Alabama, Virginia and North Carolina. These runs were the first steam runs in the area for more than 20 years. Southern Railways #630, a 100+ year-old 2-8-0 Consolidation was at the point of each run and was backed up by two NS Geeps to help master the steep mountain grades. The train had nine coaches and every run was a total sellout. P&WRR Club member Gene Austin chased a portion of a run from Bristol, VA to Bulls Gap, on on March 10, 2013 and three runs between Asheville, NC and Old Fort, NC on April 20 & 21, 2013 taking a great many photos. Ken Humphreys rode the afternoon roundtrip on April 21, 2013 between Asheville and Old Fort and took many more photos. Because the windows of the coaches could not be opened and needed cleaning, and because of sun glare and smoke from 630, some of his photos are not of the best quality but are included here because of what they show. Tim Skidmore was in Valdese, NC when the train was relocated from Spencer, NC to Asheville for the runs on April 20 & 21 and took a film of the train passing by. Gene Austin also took a film of the train rolling through Swannanoa, NC enroute to Asheville.

Then on May 25-27, in cooperation with the Ft. Wayne Railroad Historic Society, excursions were operated between Lewistown, PA and Gallitzin, PA via the famous Horseshoe Curve at near Altoona, PA. These runs were powered by Nickel Plate 765 assisted by two NS Heritage locos. Palmer McCall went to the Horshoe Curve on May 25, 2013 with his parents to see one of these historic runs. Palmer's father, Dr. Mike McCall is a member of the Piedmont and Western Railroad Club. Palmer commented, "There are days-worth of rail-related things to do and see in the area, and the landscape is very beautiful. Pictures and postcards simply don't do justice to the Horseshoe Curve, and there is an excellent museum and gift shop at the parking area. The funicular from the museum to the rail level is worth the visit alone! Hope you enjoy the clip; it was tremendously exciting, as a stack train was making its way up the outer rail, when the 765 came into view and very quickly overtook it. The noise was pretty glorious! The excursion went on up to the Gallitzin Tunnels, turned, and came back by us on its way to a lunch stop at the Railroaders Memorial Museum in Altoona, and then back to Lewistown. While waiting for the two passes, we saw many, many other trains, including Amtrak's Pennsylvanian coming down into Altoona. Note in the clip that the two assisting diesels are in Norfolk Southern's Heritage paint schemes; the Pennsylvania and ConRail commemorated here." A link to Palmer's film clip arppears below.
To view any of the following sets of images, click on the descriptions next to the thumbnail images.
All these images are held in Copyright by Gene Austin, Palmer McCall, Ken Humphreys or Tim Skidmore. These images may not be used for commercial or web page publication without written permission of the copyright owners.
If you have any questions or comments, please feel free to e-mail P&WRR

Bristol, VA to Bulls Gap, TN
Photos by Gene Austin, April 10, 2013

Video clip by Tim Skidmore of
630 passing through Valdese, NC on the Way to Asheville
April 18, 2013. Note the gondolas of coal and the bucket loader behind 630 and the Geeps.


Asheville Yard, April 21, 2013
Photos by Ken Humphreys
Train rounds the looks on the east slope of the mountains
Photos by Gene Austin, April 20-21, 2013
The Biltmore Wye, Asheville, NC
Photos by Gene Austin, April 20-21, 2013
Climbing the Mountain Heading to Old Fort
Photos by Ken Humphreys, April 21, 2013
Mountain Tunnels
Photos by Ken Humphreys, April 21, 2013
Chasing the Train
Photos by Ken Humphreys, April 21, 2013
630 on the Wye at Old Fort
Photos by Gene Austin, April 20-21, 2013
Turning the Locomotives at Old Fort for the Return Trip to Asheville
Photos by Ken Humphreys, April 21, 2013

Quick Time Video Clip by Gene Austin of
630 racing through Swannanoa, NC on the way to Asheville, NC
April 20, 2013.


Various Views of SR 630
Photos by Gene Austin, April 20-21, 2013

Video clip by Palmer McCall of
Nickel Plate 765 rounding the famous Horseshoe Curve
May 25, 2013. Note the double stack train ascending the grade on the outer rail.


©2013 - Piedmont and Western Model Railroad Club